Judith Hudson, May's Insight Sunday artist, wants to tweak expectations. We celebrated the freedom of a woman to be as humorous, desirous, covetous, and boisterous as she pleases. Working in watercolor, Hudson is known for her quixotic images and her colorful depiction of our all-too-human-foibles.
Sally Susman, Executive Vice President and Chief Corporate Affairs Officer at Pfizer, debuts her first book, Breaking Through: Communicating to Open Minds, Move Hearts and Change the World. Moderated by Margaret Hoover, host of Firing Line on PBS, the two powerhouses discussed the book and its themes on leadership, empathy, humor, and candor. Susman currently serves on The Church's board, and her experience and expertise in leadership are vital to our organization; we were honored to celebrate this launch with her.
Open Rehearsal with Choreographer-in-Residence
Attendees witnessed the development of a new dance theater piece by choreographer/director Raja Feather Kelly and the feath3r theory. As part of his residency, Kelly hosted an Open Rehearsal, inviting the community to observe the choreographic process as he continues to develop movement and text relating to the work. The work entitled Death, Loneliness, and The Absolute Future of the Multiverse, or How to Cover the Sun with Mud is a dance theatre documentary about The Great American Eclipse: a total eclipse of the Sun that will result in three minutes and twenty-four seconds of total darkness as the Moons shadow traces the path of totality on April 8th, 2024.
A photography exhibition and contest
Sag Harbor in Focus returned to The Church for its seventh annual celebration of our village of Sag Harbor and of life on the East End, as experienced by students from Pierson High School. The exhibition included photographs in eight separate categories, including "Portraiture," "Landscape," "Architecture," "Still Life," "Home and Family," "A Sense of Place," "People and Activities," and "Inside Out." The students' work was assembled by artist and Pierson High School art teacher Liz Cataletto, and included work from her and co-teacher Shelby Fullam's Photography and Advanced Photography classes.

We were honored to have photographer Francine Fleischer as the judge for the contest. Fleischer chose one winning photograph from each category, for which $100 was rewarded. A $1,000 grand prize went to the photographer whose work was chosen as the most outstanding body of work submitted for consideration.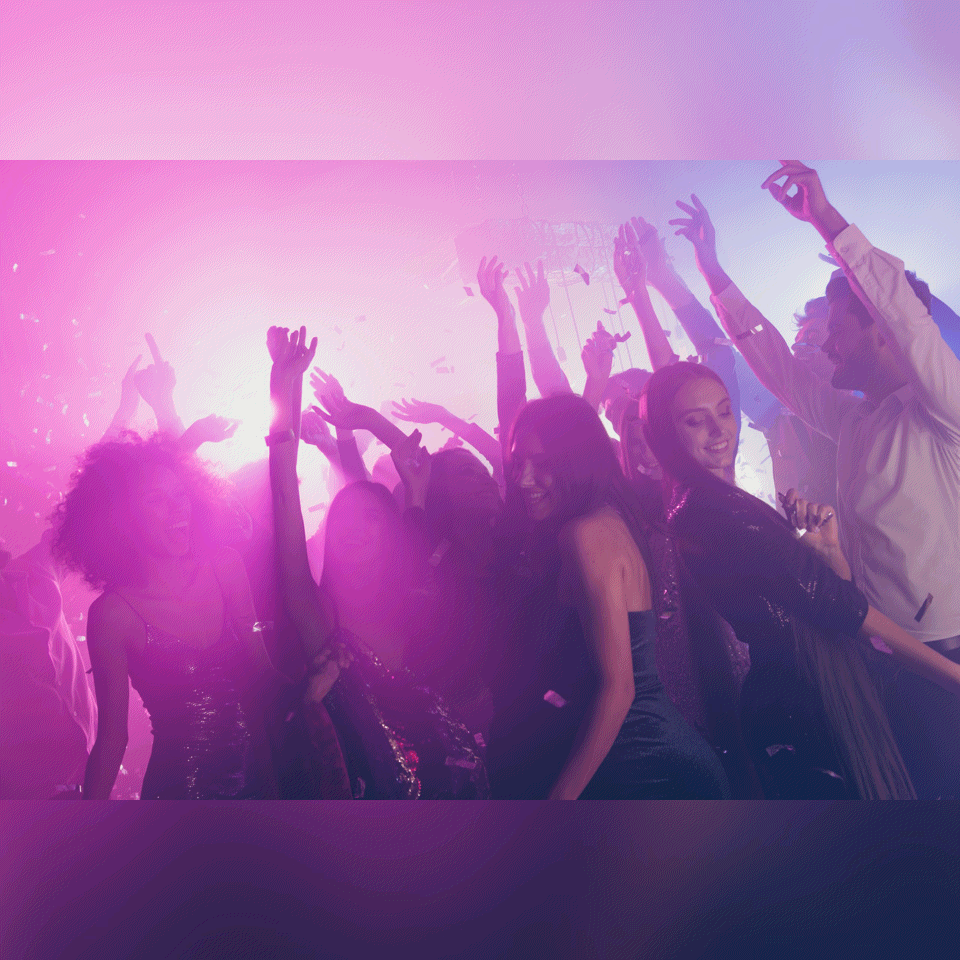 The Church loves to dance – and we know that you do too! So, we made a thing out of it: due to popular request, we held our second JUST DANCE a straight up, good times, great vibes bi-monthly dance party. This month our DJ was DJ Seth.
Mother's Day Sound Bath Lounge, Meditation, and Sachets De Senteur
Back by popular demand, Daniel Lauter joined us for a Mother's Day Sound Bath Lounge in celebration of nurturing. Participants enjoyed a next-level transformative experience at The Church as they bathed in the immersive sound vibrations.

The session began with a guided mindfulness meditation to rest and align, followed by a sound bath, and concluded with a soothing meditation on nurturing with the qualities of lavender and rose. Each attendee received a lovely herbal Sachet de Senteur as a gift.
THE ART OF SAG HARBOR'S HISTORIC BLACK BEACHFRONT COMMUNITIES
A unique community collaboration that celebrated the past, present, and future of the creative and artistic legacy of Sag Harbor's storied Historic Black Beachfront Communities. The event began with a panel discussion on the present and future of this artistically rich neighborhood, featuring artists Judith Henriques-Adams, Donnamarie Barnes, and Jeremy Dennis, moderated by The Church's Executive Director Sheri Pasquarella. Following that, guests were invited to a guided tour of our exhibition Return to A Place By the Sea, which looks back on the works from the 1980s through the present by Nanette Carter, Gregory Coates, Al Loving, and Frank Wimberley, whose relationships flourished in their time spent in Sag Harbor and East Hampton. The event concluded with a wine & cheese reception co-hosted by E.T. Williams, a visionary supporter of African American art since the early 1960s and currently a Board member of The Church Board, and the Celebrating Creatives of Color Committee, who announced their plans for a community art show currently being organized as an outdoor fair taking place for the second consecutive year on August 26th.
Writer and poet Scott Chaskey reflects upon his exploration of poetry, land cultivation, and life in his collection of essays, "Soil and Spirit." Here at The Church Chaskey discussed his new book. Attendees learned why food sovereignty and humble attention to the Earth and its diversity of species can provide invaluable keys to building healthy human communities.

While shaping the Earth for decades, working in fields, and becoming a leader in the international Community Supported Agriculture (CSA) movement, Scott Chaskey was influenced by the diversity surrounding him. Whether it is a surprise encounter with Irish poet Seamus Heaney while traveling Ireland, farming in Cornwall, attending a CSA conference in China, joining a group of Indigenous women in their harvest of amaranth seeds in New Mexico, or cultivating over sixty crops for our local Peconic Land Trust at Quail Hill Farm in Amagansett, Chaskey came to The Church with a wealth of experience and insight.

Following Chaskey's reading there was a Q&A along with a book signing with copies of Soil and Spirit, provided by Canio's Books.
A fun-filled day celebrating creativity for all ages!
We joined together to celebrate Spring in Royal fashion! Our Spring Jubilee was a fun-filled day offering creativity for all ages. The entire building and grounds of The Church were activated throughout the day in playful and fantastical pop-up experiences. Making the most of the end of the winter weather, outdoor experiences included cheeky fun for all ages – from face painting for kids, to live portrait artists sketching beloved family pets, to axe throwing, food and drink, and so much more. The day concluded with the area debut of Pussy Tales – local legend Mila Tina's newest band, featuring Úyanga Bold and Grammy-nominated Camila Celin, who rock!
Founded by area drumming legend Mila Tina, Pussy Tales unites musicians Úyanga Bold, and Camila Celin in an eclectic sound that fuses Latin, World, Jazz, Asian and Rock music. The sultry yet family-friendly show made attendees move and groove like never before. This concert concluded our Spring Jubilee, dancing our into the early spring evening– reflecting on all the joy this day is meant to bring.
Former The Church artist-in-residence and current Chairperson of The Photography Department at the University of Pennsylvania, acclaimed photographer Jamie Diamond transformed a portion of The Church's ground floor into a photo studio, capturing family portraits, both real and imagined. What exactly does that mean? Receive a formal family portrait or a portrait with a 'fake family,' inspired by Jamie's series "Constructed Family Portraits."
Participants of the Spring Jubilee were able to sign up for Axe Throwing, with Alpha Axe Throwing, a registered axe-throwing company with a safe mobile caged unit for anyone itching to pelt an axe at a target.
The Sketching of the Animals
with April Gornik, Sabina Streeter, and Lucy Winton
"The Sketching of the Animals" was word play on "The Blessing of the Animals" (shout out to our Co-Founder Eric Fischl for conceiving this fun idea). Artists April Gornik, Sabina Streeter, and Lucy Winton were stationed in The Church's Garden for live sketching quick illustrations of participants' beloved pets.
Marionette Puppet Theater
Back by popular demand, Kim Profaci's marionette theater returned to The Church for our Spring Jubilee. Kim and The Modern Marionette Company is as hilarious as it is artfully inspiring, with hand-made puppets by Kim that need to be seen to be believed. Adults and kids alike love this, and we were excited to welcome her back!
The Spring Jubilee kicked off with an uplifting Meditation and Movement Session featuring Dina Khairy. Awakening to the morning light flooding the glorious main floor of The Church The group was led through breath work, guided meditation, and gentle stretches that focus on corrective exercises and joint work by Dina. Combining yoga with aerobic exercises, the session left guests feeling centered, open, and ready for the Spring Jubilee!